Welcome to Twee Poppets! If you have any questions that are not answered below, please feel free to email me at TweePopACap@gmail.com and I will add your question to this page. Thanks!
What does the name "Twee Poppets" mean?
Twee (adj.): affectedly or excessively dainty, delicate, cute, or quaint
Poppet (n.): an endearingly sweet or pretty child or young girl (often used as an affectionate form of address)
Put the two together, and you've got the central theme of this blog: cute little items for cute little kids!
It's also a play on words based on my favorite type of music: twee pop! Twee is a subgenre of indie music that is gentle, cute, sweet, happy, and pretty. If you're curious, you can read more about twee
here
, or you can hear it for yourself by taking a listen to my favorite band,
Math and Physics Club
. Since a good deal of twee pop is kid-friendly, I might even make a few posts about some twee bands your kids might enjoy!
I am considering sending you an item for review/giveaway. What should I know?
Thanks for considering! Please see the "PR" section for everything you need to know about reviews and giveaways. If you have any further questions, please feel free to contact me at TweePopACap@gmail.com.
What sorts of products do you review?
My focus is on products for babies, children, parents, parents-to-be, families, homemakers, and caregivers. However, I'm completely open to reviewing any other type of product if it seems like something my readers may enjoy. Send your ideas my way!
How will I know if a product you review was sent by a sponsor?
If someone sponsors a review, I will usually state this right in the review post. However, even if I don't, you can look at the tags for the post: if the product was sent to me for review, the post will be tagged "sponsored" and if the product I'm reviewing was not sent to me by a sponsor, it will be tagged "unsponsored." Occasionally, I may also review or feature products that I won in a giveaway; these reviews will be tagged "giveaway prize" All reviews, whether sponsored or not, will also simply be tagged "review" for ease of browsing.
What do you do with the items you review when you're done reviewing them?
I anticipate that some items will stay with the kids or parents I test them out on, if they especially love them or if they're personalized. Most, though, will go straight into my hope chest for my future child! I can't wait to be a mother a few years down the line. :)
What is Tuesday Tag-Along?
Tuesday Tag-Along (or TTA) is the blog hop I created. If you're unfamiliar with what a "blog hop" is, it's a great way for bloggers to discover new blogs while increasing their own followers (you can read the weekly TTA posts for more complete info). I noticed that there were tons of blog hops on Fridays, but very few on other days of the week, and I thought Tuesday would be the perfect day for one!
Where did you get the art for the Tuesday Tag-Along button?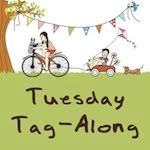 The art for the button was adapted from an illustration titled "
Follow the Leader
" by Diana Jones. I encourage you to visit her at her blog,
Sketch & Jones
, and her
online shop
to see more great illustrations and all sorts of wonderful crafts!