Hello! To everyone stopping by from Friday Follow, Follow Me Friday, or New Friend Friday, welcome! If you follow me, please be sure to comment on one of my posts saying so, and please include a link to your site so I can return the follow! I always follow back.
I want to mention that I recently started a
new blog hop
of my own! I noticed there were plenty of blog hops on Fridays, but very few during the rest of the week...and thus, Tuesday Tag-Along was born. Please come back on Tuesday to join in the fun! Feel free to grab the TTA button for your blog to help remind you. :)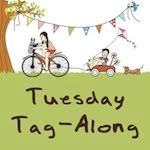 And while you're here, why not enter one of my great
giveaways
?
1)
Aw-KinaSew'N'
- Win ANY SINGLE ITEM from the Aw-KinaSew'N' Etsy shop!
2)
Sweet Melly Jane
- Win ANY FIVE finger puppets from the Sweet Melly Jane Etsy shop!
Happy Friday, everyone!
Thanks for stopping by!