Hello! If you're new to my blog, the first thing I want to tell you about is my
NEW BLOG HOP!!!
I noticed that there are tons of blog hops on Fridays, but very few during the rest of the week. So I decided to start a new blog hop that will run every Tuesday! It's called Tuesday Tag-Along, and it premieres THIS COMING TUESDAY, 4/27!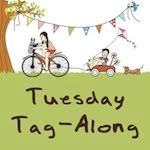 Feel free to grab the Tuesday Tag-Along button for your blogroll, to help bring more bloggers to this exciting new blog hop! And make sure to come back by Twee Poppets on Tuesday to participate! Have fun!
While you're here, be sure to check out my reviews and giveaways! Click the "Reviews" and "Giveaways" links along the top of the page for easy browsing. I have two great giveaways going on right now, and plenty more to come!
And as always, if you follow me, leave a comment saying so and I'll be sure to follow you back!
I'm participating in three blog hops this Friday! :)
Thanks for stopping by!